All advertisements describe it as a relaxing, calming, and therapeutic experience to be enjoyed together. Still, a couples massage offers many other benefits for your physical and mental health and the quality of your romantic relationship.
Treat yourself and your partner to ultimate relaxation and care with our massage package for couples at home in the Montreal region and the northern and southern suburbs.
Our highly trained massage therapists will arrive and set the stage at your home for a fully personalized and enjoyable experience. You can then enjoy all the benefits of a traditional relaxing massage, a soothing therapeutic massage or a deep tissue massage to relax your muscles.
When to choose a massage for your couple?
The couple's massage is a highly appreciated gift and very close to a box of heart-shaped chocolate, a dazzling card that springs from a bouquet of red roses or one of the pleasures of going out to a romantic restaurant during Valentine's Day.
A couples massage creates the sweetest relationship experience that the world offers in marriage and family therapy.
It allows each partner to feel a calmer heart rate, lose the need to participate in physical activity, or have anxious thoughts. Each person can feel at peace and in deep tranquillity in the presence of the other.
This pleasurable state, in turn, allows for the ability to open up emotionally with your partner and bring down, let go of any defences or subconscious attacks you may have against your partner.
Because both partners feel good and more in a romantic relationship at the end of the massage, they are often able and willing to sit quietly without feeling anxious to fill the void in the conversation.
Having a couples massage at your home invites reflection and calms animosities that some partners might feel uncomfortable.
What are the other benefits of a couples massage?
It's not all romantic with candles and piped music, and the science is at stake in a couples massage.
In addition to a large number of physical benefits, massage promotes the release of endorphins that provide a feeling of well-being, which help reduce stress, depression, and anxiety and make you feel more healthy. Of energy.
Massage helps release pent-up emotional energy that triggers increased stress and an inability to empathize or compromise with a partner. It can allow both people to achieve lower stress levels simultaneously and have more balanced conversations, and the ability to recognize each other's needs.
If you plan to book your first couple of massages, we suggest that you start with a session of 60 minutes each, depending on your preferred type of massage.
If your partner prefers a deep tissue massage and you prefer a relaxing massage, go ahead; you don't need to book an equal treatment.
Why Spa Mobile for your couples massage?
Discover the benefits of a couples massage at your home with Spa Mobile:
All the benefits of a relaxing, therapeutic or deep tissue massage: Feel your worries and worries gently dissipate with the attention of the firm and trained hands of your therapist. Each of you can choose from one of our most popular treatments, the relaxing massage, the therapeutic massage where the deep tissue massage. Please reserve your massage for pregnant women separately and not as a couples massage if someone is pregnant.
Extra romance or a special treat: Share your couples massage at home with your partner for an extra dose of romance or invite a friend over for a well-deserved birthday present. Candles and relaxing music are always something to be appreciated.
Perfect addition for a party, wedding celebration or special event: Our couples sessions are regularly booked as a relaxing addition to all types of special occasions such as Valentine's Day, bachelorette parties, bridal parties and more.
Avoid concerns about the availability of salons or spas: Few of the salons have treatment areas for two people. Also, most salons or spas are nowhere near as relaxing or romantic as you can create at home.
Total convenience: We offer in-home massage services for your couple in almost all Montreal neighbourhoods and suburbs.
Choose massage therapists who are attentive to your situation.
If you want a unique massage to relax or free yourself from your pain, discomfort, or suffering, isn't it wise and sensible to turn to massage therapists who know what you are doing? Live?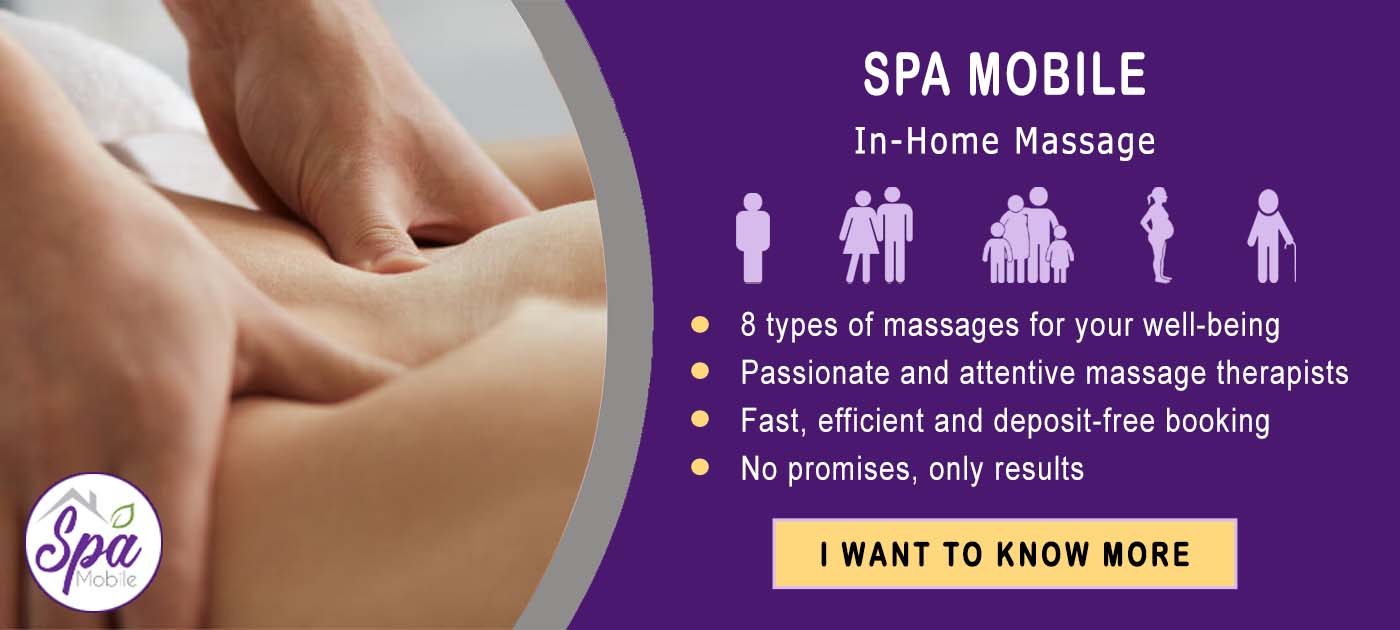 ---