Having back pain can happen to anyone.
In fact, millions of Canadians like you suffer or will suffer from back pain at some point in their life. These statistics indicate that back pain is the second most common reason people see their doctor and one of the leading causes of absenteeism from work.
To top it off, Canadians spend billions of dollars a year treating their back problems.
This is no coincidence because nowadays, many people do less physical work and have poor ergonomics, contributing to back pain. Leaning over a computer at an ill-fitting desk, sitting in an unsupported chair and sitting there for hours, over 60% of office workers suffer from chronic back pain.
As workplaces are more sedentary, pain from sitting posture most of the day can injure even a healthy back and cause back pain over time.
The more stress your back absorbs from bending over at your desk, including repeated irritating movements like using a computer keyboard, mouse, or smartphone, the more minor injuries begin to occur. 'aggravate and weaken the muscles in your back.
All of these little injuries add up and may require a visit to the massage therapist.
What is therapeutic massage?
Massage therapy relieves tension caused by adhesions in the soft muscle tissue in your back. Its purpose is to eliminate or reduce painful symptoms.
The Spa Mobile massage therapists strive to release tension at pressure points, commonly known as knots. These knots in your muscles, sometimes caused by stiff or torn tissue, become inflamed and create pain while blocking the flow of blood and oxygen, which can then limit movement.
The therapeutic massage is a great, non-invasive way to relieve back strain and associated pain. Massage therapy for back pain can also be a beneficial relaxation technique, as it releases endorphins, which create feelings of well-being and happiness in you.
Many physicians in the medical community promote therapeutic massage as a viable option for reducing back pain or for massage to be used in conjunction with other procedures to facilitate faster recovery time.
The incorporation of a full therapeutic massage aims to eliminate your back pain and stress to restore your physical and mental balance.
Why do you need to receive a therapeutic massage?
Massage therapy offers a range of benefits if you have back pain.
Because your back and spine are closely related, other conditions you may not have considered can arise when your back is injured or sore. Getting a massage can help you in the following ways:
On the physical level
Relieves back pain;
It also relieves neck pain;
Relaxes your back muscles;
Improve your immune system;
Helps relaxation by releasing endorphin;
Reduces or eliminates headaches caused by back pain;
Stops pain-related insomnia;
Increases blood flow to the affected back area so that the muscles can receive more oxygen.
Mental and emotional
Improves clarity of mind;
Reduces stress;
Helps restore concentration;
Improves mood and joy;
Calms anxiety;
Brings more perspective and hope.
While massage therapy offers many benefits, it should not be viewed as a replacement for medical care for more serious back problems.
If you are one of the millions of office workers with back pain, start stretching at your desk, move more and make an appointment with Spa Mobile to receive a therapeutic massage at your home or a massage sitting in a chair at your workplace.
Choose massage therapists who are attentive to your situation.
If you want a unique massage to relax or free yourself from your pain, discomfort, or suffering, isn't it wise and sensible to turn to massage therapists who know what you are doing? Live?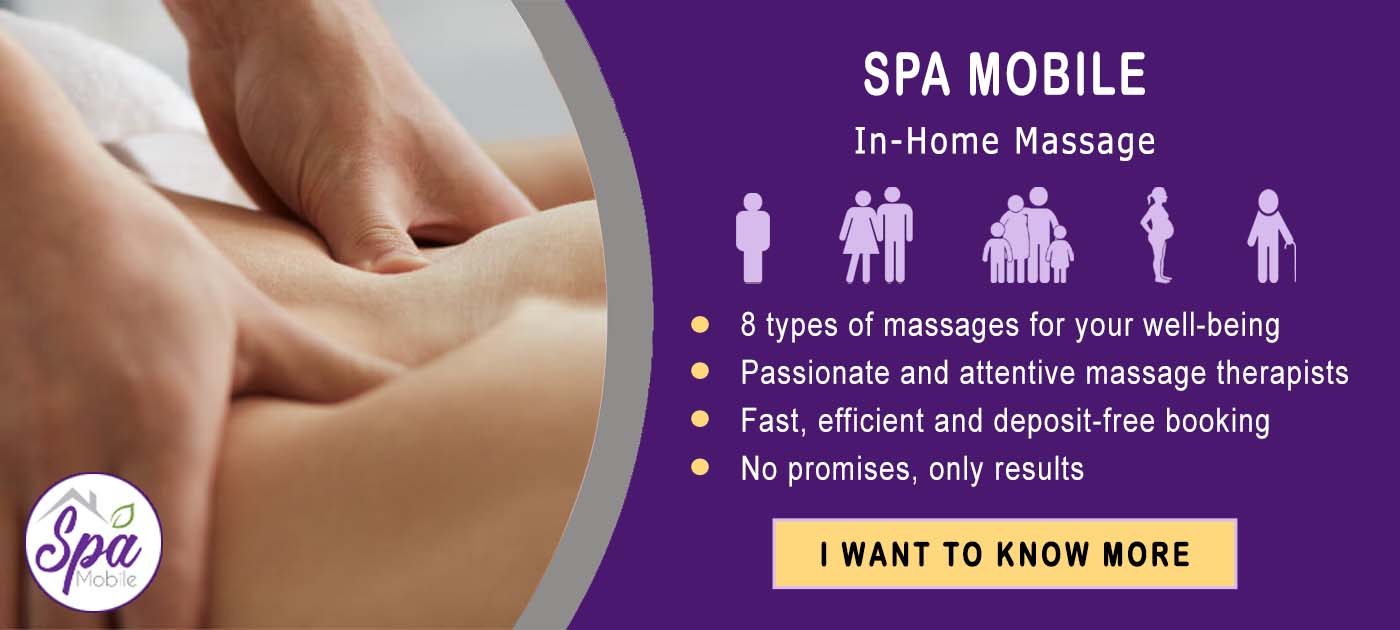 ---