Tired or exhausted after a hard day's work?
Does driving in traffic after a day's work give you muscle tension and mental stress?
Do you forget to take some time to get a good rest from this demanding life?
Sometimes after a long day at work or a busy week of responsibilities, you don't always want to get back in your car to get to your appointments.
Well, if the relaxing massage is one of those dates on your list, you don't have to leave your house because a home massage therapist can come to your home at the time that suits you.
In-home massage therapy treatment allows you to relax in your own home fully and not have to drive before or after your massage treatment. Isn't that something really nice and desirable?
Make an appointment with a massage therapist at home. Having pizza delivered right to your door is extremely simple and easy to do.
And because it's that simple, once you have your first home massage therapy treatment, it might be difficult for you to leave your home to go to a massage parlour in the future.
By now, you probably have a good reason to receive a massage at home, but I would also like to draw your attention to 7 other benefits for which massage therapy at home is a great option for you.
1. Enjoy more personal moments
While massage therapy itself is inextricably linked with touch, home massage therapy can be more personal. A massage therapist who comes to your home can gain insight into your lifestyle and relationships from the images displayed, how your furniture is laid out, and the neighbourhood you live in.
For a dedicated and caring massage therapist, this insight is an advantage in providing a better quality massage, as the bond is stronger with you when the massage is done at your home.
A massage at home allows the massage therapist to learn more about you and who you are as a human. She is not there to judge or assume anything by your decor, your mess or anything else.
Photos of you skiing or other suggested adventures in your life help to understand your needs and preferences better. For a massage therapist, this allows you to learn more about yourself and thus feel even more connected and rooted with you, which helps her to provide unique and individualized care.
2. Feel more confident and in control
Whether you are in a public massage therapy salon or a home massage therapy, you need to control your massage sessions.
Like any health care professional, massage therapists and clients must have informed consent. You have the right to talk about anything that makes you uncomfortable.
Some customers are just reluctant to request a change. But with home massage therapy, you have the advantage of the land at your home. It makes you more confident to control settings like adjusting lights, using an eye pad, using an extra fan or heat table, removing scents, receiving massage inside or outside in your class, etc.
You are not sure that all of your requests are possible in public spas and massage spaces, but you have more room for flexibility with massage therapy at your home.
Plus, you can wear your most comfortable clothes since you're home anyway while making it easier for massage therapists to work on you with clothes that a massage therapist can work with effectively.
You will also have more control over how you relax before and after the massage with any of the following:
Take a refreshing shower just before a massage;
Configure your own soothing sounds or music;
Drink a cup of tea and snack on something healthy;
Kill time in your bedroom and lie down longer.
3. The peace of mind of not driving or moving around
Many people don't like to drive and spend their time stuck in traffic. How can you truly relax if you have to go and come back for an appointment with your massage therapist?
Just think about it, and in some cases, this is enough to cancel your date!
Admit it, once you get home and then eat and drink something, then sit on the couch waiting for your date, it's not easy to get back in your car and still drive. Imagine doing this in the winter!
So, what are you doing?
You cancel your appointment because you prefer to stay in the comfort of your own home!
Did you know that driving is also a way to test your patience when you are focused on the road, and someone suddenly cuts you off or steals your parking space? Isn't it rare to have road rage in these situations that you have to deal with that isn't relaxing?
Fortunately, you don't have to worry about the commute time after your home massage therapy session. Go straight to bed or make yourself comfortable in your living room watching your favourite program.
4. More precious time for yourself
Even though we all crave a good massage, some of us don't have time to drive or go somewhere else after work or on the weekends. There isn't much room in our busy schedule to squeeze into a chill-out session. Even if we desperately need it.
Therapeutic massage. While most people are concerned about their health and well-being, many find it difficult to fit self-time into their busy schedules. This makes home massage therapy practice and indulges in relaxation and relaxation.
It is good that massage is more and more mobile, as this type of massage has increased from 39% to 50% in 2020. So, if you are a busy person who takes your homework with you, home massage can only make you more productive, and another form of mobile massage called massage sitting on a chair in a company is gaining ground.
Studies have linked massage to improved creativity and productivity. Plus, your mind might take a few minutes to an hour to take a break from your stressful and fast-paced job.
When you're so focused on something and stressed out, you have blinders and can't see the big picture. You see what's in front of you. Massage allows executives to calm down to think more clearly and get a better picture; it's better than coffee.
5. The deeper benefits of massage
Massage therapy brings many health benefits beyond the experience of wellness. Other studies also support the role of massage therapy in relieving pain: chronic low back pain, sciatica, headaches, anxiety and other stress-related disorders.
No wonder people who love to take care of their health include massage therapy in their routine. It is now becoming a regular health habit rather than a luxury.
The point is, whether you want to heal or relax, you can experience all the health benefits of massage, even with home massage therapy. It all starts with relaxation, and you can relax more deeply in the comfort of your own home.
Some people find it difficult to enter a state of perfect mental bliss because they are not used to public or foreign spaces. Home massage therapy is, therefore, the best option for them.
As you relax more deeply, home massage therapy can help you reenergize better and let go of those deadlines and gossip at work. Simply put, this is the best way to forget about the stress outside.
6. Special opportunities and care
Who says you can't enjoy healing and relaxation when you can't go to a luxurious spa? Home massage therapy is excellent if you need special care and attention such as:
Pregnant women or new mothers;
Seniors who cannot leave their homes;
People with disabilities who have arthritis or chronic pain;
The bachelorette parties or the weekends between the girls;
Make your time more memorable with friends or someone special at family or team-building events.
7. Offers a space of happiness in your privacy
Don't you think your room can match the ambience of spas? Watch a professional massage therapist transform her.
Once a professional massage therapist arrives, she settles into your favourite intimate relaxation space and sets up her table, takes out her massage oils and begins to create an intimate setting for you.
If you don't have music, she may ask if you would like her to offer one and aromatherapy scents if you want.
Probably, you will not recognize your room because it turns into a space conducive to relaxing massages that you never thought possible.
Home massage therapy professionals know how important visual, sound, olfactory and tactile elements are for relaxation. Their goal is to set the mood for a good massage experience.
All you have to do is direct the massage therapist to a good space to set up a massage table, and then she will do the rest to meet the physical and aesthetic demands of relaxation.
You can even enjoy a massage outside if the weather and the disposition combine well.
A good massage has choices.
Home massage therapy doesn't mean you have to give up going to your favourite massage therapist or that famous spa in town. But just like eating your favourite pizza, some days you want to dine out, other days you want to enjoy it at home.
Relaxation is a matter of perception. And we all have our own ways to relax, no matter what.
The next time you don't feel like going out and want to be pampered, you can do it your way from the comfort of your own home with peace of mind and knowing that your in-home massage is giving you the power—expected satisfaction.
Choose massage therapists who are attentive to your situation.
If you want a unique massage to relax or free yourself from your pain, discomfort, pain or suffering, isn't it wise and sensible to turn to massage therapists who know what you are doing? Live?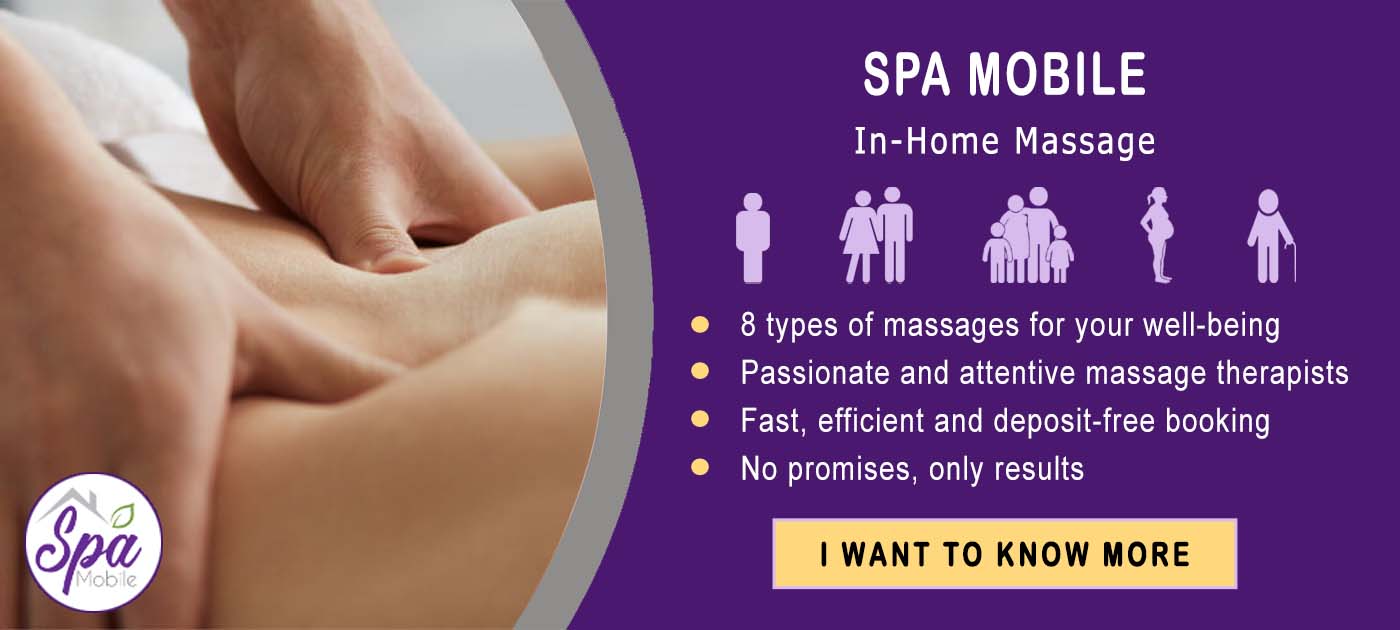 ---