Romance is the essence of life. Every being created by mother nature is tied to the better half and what keeps these ties firm and stern is romance. "Man is a social animal" who needs to spend life with someone who socializes at the same frequency as he does. 
Most of the time, this struggle to socialize ends up with a trustworthy, loving partner. If you have just found the love of your life, or it has been some time with your spouse and you are looking for ways to make your love life more interesting, then this article is for you!
Here we are going to unravel the mysteries of a healthy romantic life, thanks to the love gurus!
Tips To Strengthen Your Relationship 
Trust Your Partner 
The gospel of truth for any relationship is trust. While romance is the icing on the cake, trust is the flour, sugar, eggs i.e. the basic ingredient. Without this, no amount of romance can strengthen a bond. So, step 1 would be to increasing your trust in your partner.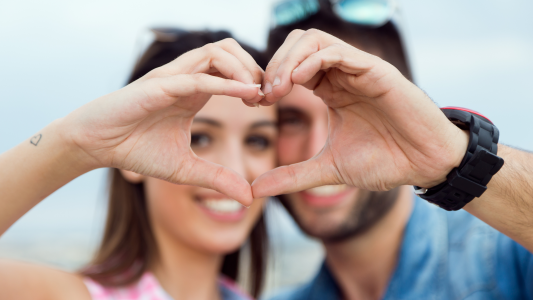 Give your partner freedom to live their lives according to THEIR choice.
Be Good Friends 
The first step on the ladder of a successful relationship is friendship. Falling prey to the duties and responsibilities of a commitment can take all the fun out of you. Therefore, the best way to long last in a bond is to become friends. 
True friendship means a bond based on equality. Consider your partner an equal friend, be frank, be vocal, but stay respectful to each other. 
Take Interest In Your Partner's Choice 
Taking care of the likes and dislikes of your spouse is an effective way of gaining/regaining your partner's confidence. Your husband loves to watch cricket, or your wife is in awe of the newly released romantic flick, buy tickets and surprise your better half. 
This way you can make them realize how much their happiness matters to you, plus you get to spend some quality time together. (Of course, you won't be watching the match/movie all the time!).
Take Out Time For Each Other 
Making time for your partner, out of your busy schedule is a must if you want to rejuvenate your links. Coming home early from work just to sit next to your partner on the couch may seem to be a small step but in fact, is a giant leap (especially in a frail relationship). 
A better way to do this is to plan a vacation together. Explore nature with your loved one. Arms in arms, you stroll on the snow-laden paths. Or you can lie your head down in your wife's lap as you bask on the beach.
Develop Intimacy 
For those in a new relationship, this point is pretty useless because in the start it is all about sex and intimacy. However, people who have spent some time together are pushed away from each other. Sexual life is compromised in the majority of couples. 
So, you must consciously commit to turning up the heat. Leave no table unturned to get into the mood. Set the mood yourself. Hit the market and buy some nice aromatherapy candles. Embellish the room with flowers, play sensual music, and invite your partner for an unforgettable night. Sexual intimacy plays a pivotal role in reviving the spark.
Appreciate One Another 
This applies not only to spouses but to everyone. "Dead people receive more flowers than the living because regret is stronger than gratitude". Thus, it is a must that you appreciate your partner. Be generous with compliments. Express your love and affection, it positively nourishes your relationship.
Boasting the qualities of your spouse in front of others may also increase their love and confidence for you!
Fight Well 
If you believe that arguments and disputes are inevitable, then you can live a happier life. Those who feel that living in a relationship is all stars and glitter live in fool's paradise. When two people share a life (not just rooms, food, television, but a life!), disagreements are bound to happen. 
The trick to resolve a matter is to keep the fight short. Fighting well doesn't mean beating the sh*t out of each other, rather it means dealing with the matter maturely. It is best to keep the fight under 10 minutes because usually, this is the time during which the actual issue is being addressed. Stretching it to hours only pulls unnecessary repetitions and old hags into the matter. 
Avoid dredging up past issues in the dispute to keep the fight neat and on-point. And yes don't stoop too low. However angry you are, take care of the dignity of your loved one and abstain from hitting below the belt. 
Fighting with responsibility can make your fights brief, to the point, and easier to resolve. 
Be Quick To Forgive And Apologize As Well 
Another epoxy to your bond is a quick response following a fight. Show some magnanimity and forgive quickly. On the other hand, admitting to your fault won't decrease your respect. Therefore, be early in apologizing if you are wrong. Keep your ego aside as ego is the biggest home-wrecker. 
Tips To Bring Romance To Your Relationship 
If you are a caring husband and want to show your affection by romanticizing the relationship then follow these tips:
Increase The Frequency Of Cuddling 
Cuddling is the best form of romance, I tell you. It's like channeling all of your romance and affection into one simple act of love. There are some necessary cuddles that are mandatory for a good relationship i.e. morning cuddles before going to work and evening cuddles i.e. before bedtime.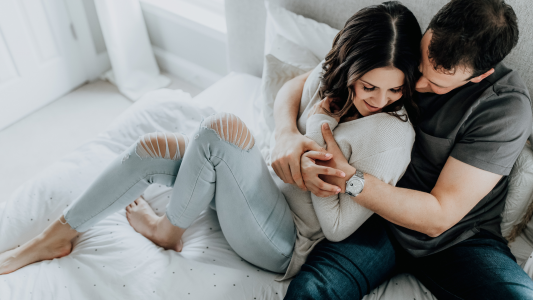 So, what you need to do is add more cuddles to the routine. Mid-day cuddles, holiday cuddles, its-raining cuddles can do the trick for you.
Indulge In Relaxing Activities Together
Couple Massage 
Getting a massage together i.e. a couple of massages can mean a great deal to your relationship. Flushing out stress and rejuvenating the spirit and body can instill new energy. Romancing your partner is easier when the feeling is mutual.
You can set up a home spa with massage oils, scented lotions, and relaxing music.
Cycle Together 
Have you seen those bicycles that are designed for two people? Rent it! Go for a short ride, pedaling together. 
Plan A Romantic Scavenger Hunt 
There is nothing better than a romantic scavenger hunt. This childish activity is in fact a pretty fruitful step in helping you revive the spark. You can hide special gifts around the house and give interesting clues leading to the gift. These clues can be written notes encasing chocolate hearts and candies. 
Hit The Road 
You can plan a long drive together. It is commonly believed that you develop a strong bond with someone you travel (a long-distance). So, take time out of your work routine and hit the road with your companion. 
An even better way of traveling together is by train. You can experience uncanny romanticism on the train if you book a sleeper. Drown into the eyes of your loved one during a romantic candlelit meal in the dining car. Doze off as the whistle of the horn becomes a lullaby to your ears.
Dance Together 
Mature couples who have successfully turned their love relationship promote dancing as an effective activity. You can grab your partner by the waist and groove to the music (even in the kitchen). A small kiss to end the dance can be a good reminder that you guys are spouses and not just parents.
Work Out Together 
A couple's workout is also an impressive way to gain each other's attention. Getting sweaty together can be pretty fruitful for both of you. Plus you can get endorphins pumping that too at the same time.
Give Surprises 
The sparkle of happiness in the eyes of your girlfriend can make your day. You can give surprises in different ways. Coming home early can be a pleasant surprise. Throwing a fluffy towel in the dryer so it's warm when your wife comes after a shower can be a soothing surprise. 
Making her tea/coffee as she works through the night can be a relaxing surprise. 
All these little gestures of love can reroot your love life!
Go Old School Way
In the world of social media and WhatsApp, love letters are a thing of the past. But in reality, there is no replacement for the hand-written love letter that ooze with love and affection. 
Write a love-filled letter to your hubby. Spray it with your perfume (one he likes the most) and seal it with a kiss (use red lipstick to make it sexy).
Appreciate The Adorable Things Your Partner Does
It has been observed that many times both companions are struggling to improve their relationship. So, the best way to ease things is to appreciate what the other person is doing. For example, if your husband picks you up from work or cooks your favorite meal, then be thankful and enjoy the feel rather than nit-picking. 
Plan Date Nights Regularly 
It may sound cliché but it is necessary to keep the spark alive. Responsibilities of work and home extract all the wildness from you and you are left a boring oldie sitting on the rocking chair. Don't let that happen!
Plan a date, have lunch together, watch a movie. In short, have some quality time together. 
Organize Adults-Only Weekend 
Engaging in sexual activity is a great boost to drab love life. Arrange for the kids to spend a couple of nights with their grandparents so that there is no one but both of you guys at home. 
You may keep it a surprise and enjoy an adults-only weekend. 
Spruce Up Your Bedroom 
Buy yourselves a new bedsheet (a fancy one). Go for a new sumptuous bedspread and enjoy the night with your partner.
Send A Sexy Gift 
Instead of directly giving a gift to your wife, send her lingerie over the mail. That heart-pound she gets when she receives it will be naughty memory for sure.
Try Something New
You may adopt casual public acts of love too. Sneaking a kiss while your partner waits in line at the grocery store, can be an adorable act indeed. 
Remember The Good Times 
Movies have taught us this. Honestly speaking, it really works. A trip down the memory lane is pretty efficacious in reigniting the spark between the two of you. There are numerous ways of doing it. 
You can play your wedding footage on the big screen. Create a montage of your old pictures. Play your most memorable trips on the home TV and relive those moments. Primitive couples can also pull out photo albums and reminisce. 
An even better way would be to revisit the areas where you created the memories in the first place. 
Keep Making Memories 
Try fulfilling the dreams of your spouse. Financial constraints put limits to everyone's desires. But it can stop you from taking joy in the little things. Take a rainshower together. Take a light stroll together in the breezy morning. 
Pamper Each Other 
Pampering your wife/husband is a physical declaration of "I love you". You can bring in cappuccino in bed for your wife (every morning). Calling her out with cute nicknames like sweetie, honey, etc. is beautiful.
Frequently Say "I Love You"
A young couple has the agility for expression of love. When you have spent some time together, verbal expression of love seems to become unimportant. However, that is not the case. Reassure your partner that you love him/her. A small text in the morning or a voice note can be sufficient to keep them smiling the whole day.
Take-Home Message 
Reviving a bond with your partner and adding romance to it is easy and difficult at the same time. Reassuring your spouse of love is easy if you are caring enough. Caring and sharing are the essences of love. Get close to each other, look after one another's choices and all will be well.