Frequently Asked Questions: Here are some frequently asked questions from customers.
What regions do you cover?
We currently cover Montreal, Laval, the South Shore and the North Shore.
What type of payments do you accept?
We mainly accept E-transfers to our email or by wire transfer for businesses. We also accept cash payments and checks. We don't take credit cards. 
How can I use my gift card?
You can check your gift voucher balance and find all the information on how to use it; visit this link: https://booking.appointy.com/en-US/spamobile/gift-certificate/balance.
Do you give children insurance receipts?
Of course we do! Most of the time, if you have insurance, your children have it too. The only exception is if you haven't signed up for the family plan, families have the family plan most of the time. Some insurances require a doctor's prescription. If this is your case, ask your family doctor for a prescription.
Do you give insurance receipts?
Yes, we provide massage therapy & physiotherapy insurance receipts. We are also an approved supplier for direct billing with The Blue Cross.
How should I dress in the portable sauna?
You can wear a swimsuit or your underwear.
At what age do you start massaging children?
Age 3 is an appropriate age to begin a 30-minute full-body massage. We also massage toddlers and babies (they usually take less time).
What do you bring for the massage service?
We bring everything you need to enjoy a massage at home. Our massage table is a sturdy foam mattress. It can hold up to 1000 pounds. We bring all linens, oil, essential oil, music, files, and heated mattresses. The only thing we will need is a comfortable space in your house.
Should we wear a bathrobe?
We strongly recommend that you have a bathrobe with you. It is a pleasure of a home massage not to get dressed after the massage but to wrap yourself in the bathrobe.
What is your cancellation policy?
You can reschedule or cancel your appointment up to 12 hours before the scheduled massage time free of charge. If you change your appointment with less than 12 hours' notice, you will be charged a fee of $ 35 at your next appointment. If you cancel your appointment with less than 12 hours' notice, a fee of $ 50 will be incurred on your next visit.
I was wondering what types of massage you offer.
You can find the type of massages on this page: https://www.spa-mobile.com/our-services/.
If I want to make a special request, should I inform you beforehand or on the day off?
Depending on the request, it can be added to the booking form (during the booking process). let's say the massage is for my mother Denise at this address or it's for a surprise…
Or if it's to bring a chair massage instead of a table, then you can contact us by SMS at 439 799-5536 to ensure the massage therapist can do a chair massage and has one.
Or if the request is about the actual massage, then this info can be added to the intake form. the form will be found in the email confirmation you'll receive after booking the appointment.
---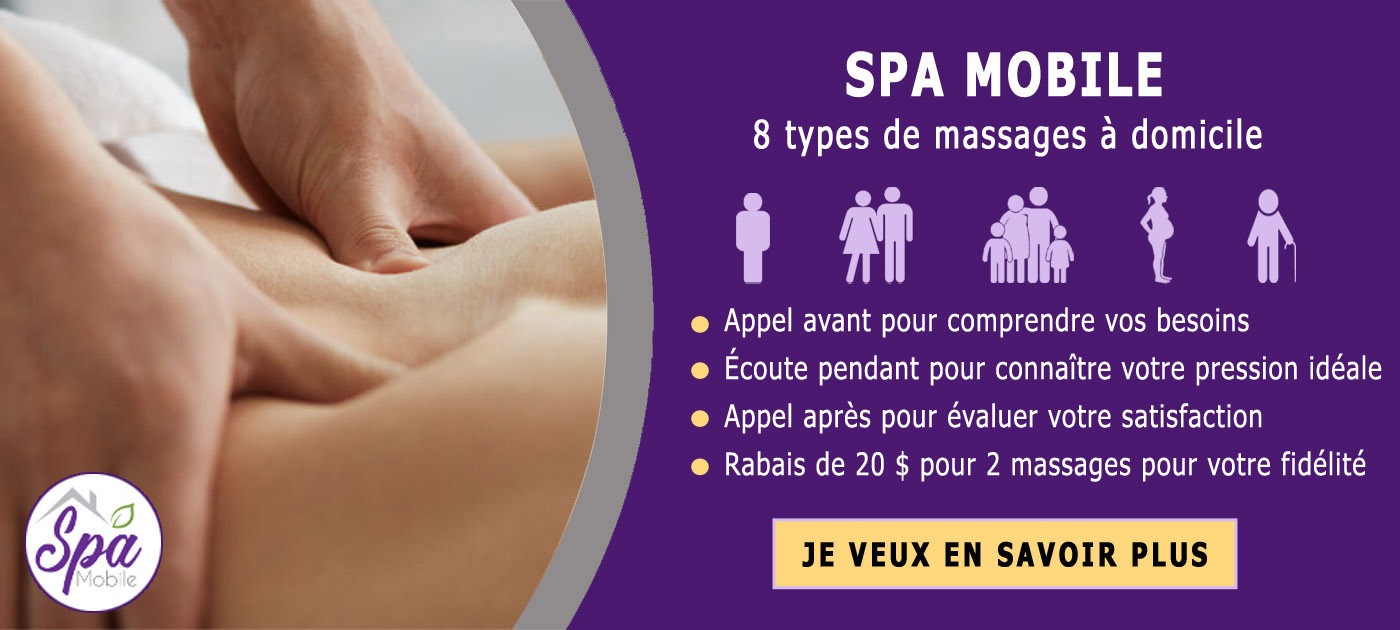 ---