Spa Mobile: Montreal's premier in-home massage. Luxurious convenience. Tailored service. Corporate Solutions. Innovative technology.
Welcome to Spa Mobile: Where Relaxation Comes to You
Are you tired of the daily grind, searching for a sanctuary of tranquillity and rejuvenation? Look no further; Spa Mobile is here to redefine your concept of relaxation. We specialize in bringing the luxurious spa experience directly to your doorstep, eliminating the hassle of travel and scheduling conflicts. With our team of highly skilled and licensed massage therapists, we are dedicated to providing you with an unparalleled and personalized experience that will leave you feeling refreshed, restored, and revitalized.
At Spa Mobile, we understand the demands of your fast-paced lifestyle. Juggling work, family, and personal commitments can leave little time for self-care. That's why we've created a solution that fits seamlessly into your routine, allowing you to prioritize your well-being without compromising convenience. Imagine indulging in a world-class massage treatment tailored to your unique needs in the comfort and privacy of your own home. No more battling traffic or searching for parking spaces. With Spa Mobile, relaxation is just a few steps away.
Our unwavering commitment to delivering an extraordinary experience sets Spa Mobile apart. We believe that relaxation is not a luxury but a necessity for maintaining a healthy mind and body. Our team of expert therapists is handpicked for their exceptional skills, passion for their craft, and dedication to providing the utmost care and attention to our clients. When you choose Spa Mobile, you can be confident that you're in the hands of professionals committed to your well-being.
Our value proposition lies in the personalization and convenience we bring to your wellness journey. Each session is thoughtfully tailored to address your specific concerns and goals. Whether you're seeking relief from chronic muscle pain, recovering from an injury, or simply needing a blissful escape, our therapists will adapt their techniques and approaches to ensure the best possible outcome. We take the time to listen to your needs, understand your preferences, and create a bespoke treatment plan tailored exclusively for you.
Moreover, our commitment to convenience means that we work around your schedule. We understand that life can be unpredictable, and flexibility is essential. With Spa Mobile, you can choose the time and location that suits you best. Our therapists will arrive at your preferred destination, whether it's your home, office, or hotel room, fully equipped with state-of-the-art equipment, premium oils, and everything needed to create a spa-like ambiance. All you need to do is relax and let us take care of the rest.
In addition to our exceptional in-home massage services, Spa Mobile also offers a range of complementary features designed to enhance your experience. We provide a seamless and user-friendly online booking platform allowing you to schedule appointments effortlessly. Whether you prefer early-morning sessions, late-night indulgences, or weekend retreats, our flexible booking system ensures we can accommodate your needs.
We also understand that giving the gift of relaxation is a beautiful gesture. That's why we offer gift certificates, allowing you to share the Spa Mobile experience with your loved ones. Treat them to a rejuvenating massage session and watch their stress melt away. Our gift certificates can be easily purchased online and delivered electronically, making it the perfect present for any occasion.
We pride ourselves on maintaining the highest standards of professionalism, integrity, and ethical practices. All our therapists are fully licensed, ensuring you receive safe and reliable care. We also prioritize your privacy and confidentiality, providing a secure and discreet environment for your sessions.
But our commitment to you doesn't end when the massage is over. At Spa Mobile, we value your feedback and continuously strive to improve our services. We encourage you to share your experience and provide reviews, as it helps us understand your needs better and ensures that we deliver exceptional experiences every time. Our therapists actively engage with your feedback, addressing any concerns or questions you may have. We believe in building long-lasting relationships based on trust and satisfaction.
So, are you ready to embark on a journey of ultimate relaxation? Take the first step towards total well-being by booking an appointment with Spa Mobile today. Explore our website for more information on our services, therapists, and testimonials from our delighted clients. Join the growing community of individuals who have discovered the true meaning of relaxation right at their doorstep.
Indulge. Unwind. Rejuvenate. With Spa Mobile, relaxation has never been more accessible.
Explore our diverse range of massages now!
Click on the image below to discover the perfect massage for your relaxation needs.
Home massage therapy in the greater Montreal area Spa Mobile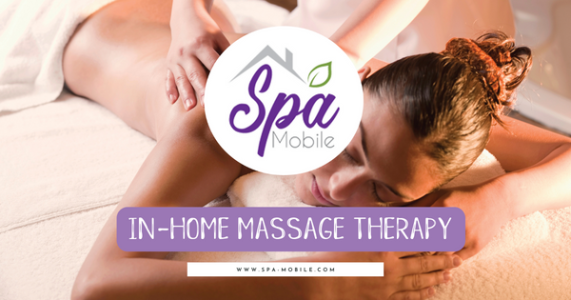 Spa Mobile is an in-home massage therapy services that serves individuals, couples, families, elderlies and companies all around Montreal, Quebec
Service Type: Massage at home, Mobile massage, Mobile services, Massage for individuals, Massage for couples, Family massage, Massage for pregnant women, Massage for the elderly, corporate massage, Chair massage, Group massage