Have you ever suffered from pain or discomfort and weren't sure whether you need physiotherapy or massage therapy?
In fact, when you are in pain, you know how difficult it can be to make an informed decision about which healthcare professional to choose.
The good news is that the answer is already within you, depending on your current condition and what you desire as a result.
What are the first questions to ask yourself?
Physiotherapy and massage therapy can help you manage your pain. Still, massage therapy is commonly used for immediate pain relief and muscle spasms. In contrast, physiotherapy is geared more towards rehabilitating an area's muscle and joint functions—data of your body.
If you are considering massage therapy or physiotherapy treatment for the discomfort you are experiencing, here are some questions that can help you choose between the two:
Do I know the cause of the pain?
Have I ever suffered from pain, and what treatment has worked before?
Is stress contributing to my current problem?
What do I want to achieve with the treatment?
Is it better flexibility, a reduction in pain, a return to sport?
Click to enlarge
Physiotherapy
Physiotherapists work in a more focused fashion with patients who are typically recovering from an accident, injury, or any physical condition that results in pain, restriction of movement, and impaired mobility using a range of different techniques so that patients quickly regain their full function.
They often work in outpatient clinics and hospitals.
If you are unsure of the cause of your pain or how to treat a particular injury, physical therapy would be recommended. They have a detailed understanding of how the body moves and functions. Using this knowledge and the information gained from a thorough verbal and physical assessment provides a diagnosis that guides you through the treatment process.
Physiotherapists can refer clients to diagnostic procedures such as x-rays.
A typical physiotherapy session includes assessment, bodywork, ice, ultrasound machines, and corrective exercise therapy. Other treatments they can use include hydrotherapy, gym rehabilitation, and performance monitoring.
Typical injuries that physiotherapists can treat are both acute and chronic. It is not uncommon for a physiotherapist to see two or three patients simultaneously. Therefore you may encounter times during your physiotherapy session when you are not actually being treated formally by the therapist.
As a general rule, if you are suffering from an acute injury or need a firm diagnosis of your condition, it is probably best that your first contact will be with a physiotherapist. Still, it may be that after a few sessions, the massage therapy becomes more relevant to your treatment.
Massage therapy
Massage therapists are good at using practices to treat muscle-related issues. They work holistically, specializing in certain treatments but focusing on your whole mind and body.
Most of their patients are relatively healthy people looking to improve their general well-being and relieve stress.
Some massage therapists work in spas; others specialize in helping the elderly. They also advise on posture, ergonomics and how to stay healthy.
Sessions typically last around an hour. The massage therapist uses their hands, fingers, joints, elbows, and forearms to manipulate the body's soft tissues (muscles, tendons, ligaments, and connective tissue/fascia).
While most massage sessions have a direct therapeutic goal, for many people, an added benefit is that while the massage itself can be a bit painful and intense, it still provides some degree of relaxation.
If you know your problem is with tight muscles or stress, effective massage helps relieve tension to reduce your pain and improve your mobility. If stress is contributing to your pain or causing mental frustration, massage therapists help provide physical relaxation and time for mental relaxation.
Massage therapists can use various techniques, including deep tissue massage, trigger point work, stretching, myofascial release and acupressure point stimulation to help relieve pain, decrease muscle tension and restore balance to the body.
Massage therapists do not do any manipulation, and to distinguish themselves from physiotherapists, they do not have sufficient training to be considered diagnostic practitioners. If you are looking for a firm diagnosis of any condition you are facing, you need to see someone other than a massage therapist.
Physiotherapists and massage therapists can prescribe stretches, strengthening exercises, postural and balance exercises.
If your condition is more general and chronic in nature, such as a stiff neck or persistent pain in the shoulder or lower back, massage therapy may be appropriate. This is especially the case if you want to have a more holistic approach with the massage therapist dedicating their time only to your whole body rather than a session totally dedicated to treating pain in your left forearm.
What are the main differences between massage therapy and physiotherapy?
Massage therapists typically do not provide primary care for injuries, although they can help as part of an overall treatment plan.
Another key difference is that massage therapists can work with a patient their entire life, while physiotherapists try to get their skills certificates so they can move on. This is reflected in their training.
Massage therapists learn different techniques designed to treat both the physical body and the mind. This is why massage therapy is a good treatment for stress and certain forms of depression. Although they are trained in anatomy and physiology, it does not go as in-depth as in physiotherapy.
Physiotherapists learn to solve a particular problem in a particular area of the body, such as the lower spine. Their goal is to restore function, to get a patient back on track or an athlete on the court as quickly as possible.
Physiotherapy requires a medical prescription, unlike massage therapy.
Needless to say, many patients benefit from both areas, either at different times in their lives or in conjunction with each other.
Some quick reasons to choose physiotherapy:
You don't know what's causing your pain
You know the cause of your pain and it is not related to the muscles
You are injured and you want to resume sport
The massage worked at first, but the problem keeps recurring
You experience pain or lack of movement as a result of an activity.
You have had surgery and need rehabilitation.
You are looking to integrate more physical activity into your life to move more.
You want to learn how to prevent injury.
Some quick reasons to choose massage therapy:
Your problem seems to be related to muscle tension
You've been very stressed out lately
You experience general pain after exercising
You feel stiff and want to be more flexible
You want relief from muscle and joint pain.
You need to relax because of the lack of t "me time."
You want to improve your body posture.
Tired and overworked muscles that need to decompress.
I hope this information has helped help you see the difference between physiotherapists and massage therapists. If you have any further questions or are still unsure what you need to get you moving again, please don't hesitate to contact us!
Choose massage therapists who are attentive to your situation.
If you want a unique massage to relax or free yourself from your pain, discomfort, pain or suffering, isn't it wise and sensible to turn to massage therapists who know what you are doing? Live?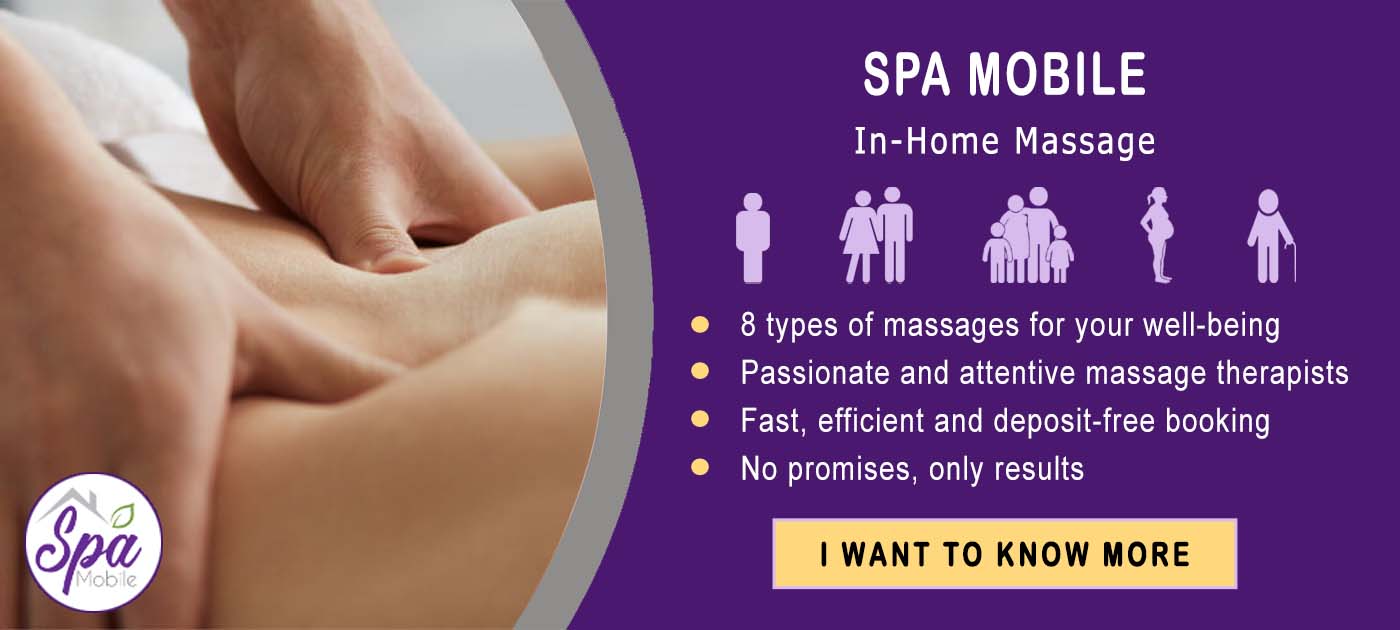 ---