Research shows that massage during pregnancy can improve your baby's health in 3 ways.
Pregnancy is one of the most complicated times in a woman's life. Full of emotional and physical swing, it is valid to expect a rollercoaster of changes. It is essential and convenient to know the healthful things you can do to ease muscle stress.
Massage therapy has always done wonders for human bodies. Professional masseuses have always been referred to in old times. Due to the recent advancements in the medical and biological fields, massage therapy has been deemed exceedingly therapeutic. It has been used to treat so many physical illnesses, not to mention it helps you relax freely and release muscle tension.
So, the important question is, is massage therapy safe during pregnancy? Won't it harm the baby?
It is normal and valid for you to worry about that as an about-to-be mother. The good news is that massage therapy is actually incredibly beneficial during pregnancy and can even ease the birth! However, it is imperative to avoid the normal things in massage therapy that can be harmful when done in pregnancy. So here is everything you need to know about massage during pregnancy.
Prenatal Massage
Also, for anatomical changes you experience during breastfeeding, prenatal massages are customized. You could spend most of the time lying face-down on your belly during a conventional massage (which is not feasible with a pregnant belly) and half the time on the flat side (a position that puts force on an important blood capillary that can disturb blood circulation to your baby and induce nausea).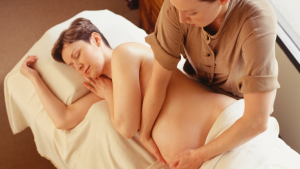 But a qualified massage therapist can make accommodations for various cushioning structures or gaps as your shape and stance changes, allowing you to lay face down comfortably while providing space for your rising belly and breast. Or, with the help of pillows and couches, you could lie on your side.
Benefits Of Massage During Pregnancy
From the first trimester, pregnancy massages are typically deemed healthy, as long as you have the approval from your doctor and let your massage therapist know that you are expecting. Although you might want to stop massage during the first 3 months of pregnancy, it may cause drowsiness and lead to nausea.
Despite the misconceptions you might have read, there is no mysterious delete button that can unintentionally stop your pregnancy, and there is not much reliable evidence to claim it.
Some massage therapists neglect such pressure points, like the one between the ankle bone and the foot, out of fear that contractions could be caused, although there is little proof that massage can potentially jumpstart labour (to nonexistent).
It is smart to avoid massaging your tummy, as strain on that region will make you upset when you're pregnant. Massage during pregnancy has countless benefits and can help you out. Here is how:
1. Nerve Pain Relief
The main goal of massage therapy is instant pain relief. Several women encounter sciatic nerve discomfort in late pregnancy due to the fetus lying on the pelvis and lower back issues. Stress is spread to the upper and lower legs' muscles by the uterus's weight, allowing them to expand and place pressure on surrounding nerves.
By helping relieve the pressure on close-by muscles, massage therapy treats the inflamed nerves. Several women have undergone a dramatic decrease in sciatic nerve pain as certified by Healthline, Via massage therapy.
2. Hormonal Adjustment
NCBI shows how the body undergoes hormonal changes during pregnancy. Research performed in the last decade has found that as massage therapy is applied to women's prenatal treatment, hormone levels associated with stimulation and stress are dramatically changed. This results in the control of mood and enhanced heart health.
Hormones such as norepinephrine and cortisol (stress-related hormones) were lowered, and dopamine and serotonin levels were elevated in women who received bi-weekly massages for just five weeks (decreased levels of these hormones cause depression).
These improvements in hormone levels have since resulted in fewer congenital disabilities and fewer cases of neonatal problems, such as low birth weight. When medicinal massage is introduced into routine prenatal treatment, the data clearly shows maternal and child health advantages.
3. Inflammation Reduction
During breastfeeding, the joints' edema or inflammation is also induced by diminished drainage and elevated pressure from the overweight uterus on the main blood vessels. The elimination of tissue residue in the lymph body system further increases this, as Healthline explained.
In addition to decreasing the collection of fluids in sore joints, massage also helps relax soft tissues.
4. Other Benefits
Other minor but amazing benefits of massage therapy during pregnancy include: 
Less back pain

Less joint pain

Enhanced blood circulation

Less swelling

Less emotional stress and anxiety

Enhanced oxygenation of internal tissues and muscles

Healthier and longer sleep

Less muscle stress and headaches
Things To Avoid In Massage During Pregnancy
Even though massage during pregnancy can help you a lot, it is imperative to take precautions and don't do anything that can prove harmful to your baby. Certain things must be avoided, and certain procedures should be followed. 
It is crucial to tell your massage therapist that you are pregnant, even if you have just conceived. The massage therapist will then make sure that they don't exert pressure on any sensitive point.

You should not use those aromatherapy oils that can be harmful during pregnancy.

Moreland Ob-Gyn

enlists all of them.

You should probably avoid getting the massage done right on your belly since it can create issues.

Follow the right body positions as advised by your massage therapist. Most of them include sitting on a chair or lying on the side.

Webmd

explains good postures during pregnancy.

It would be best if you tried not to lie on your back.

Consult your doctor regarding massage if you have had any surgery or have blood pressure issues.
The Take-Out
If done the right way, massage therapy can prove to be exceedingly advantageous for you and your baby. It can help you control your mood swings and help release body stresses. Just take precautions, keep getting advice from your doctor and a certified massage therapist, and you will be just fine.